Google announces 7-inch Home Hub
Google Home Hub is the newest member of the Google Home family, bringing you help at a glance. With the Google Assistant built-in, you can use your voice to get the best of Google—Search, YouTube, Google Photos, Calendar, Maps and more—right on Google Home Hub's display.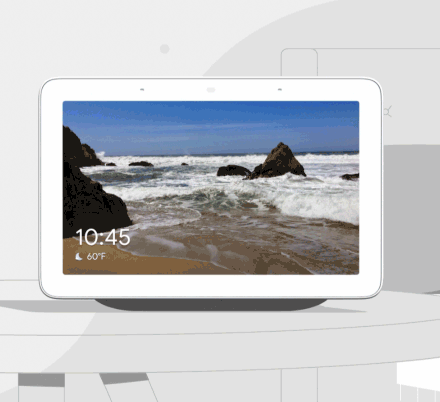 The first thing you'll notice about Google Home Hub is its beautiful design. We made this display to fit right into your home, and we hope you'll consider it not just functional, but part of your decor. The 7" screen is like a floating display, the right size to fit on any surface and big enough to enjoy your photos from across the room. With its soft rounded corners, Google Home Hub fits naturally on any surface. My favorite places are my kitchen counter and nightstand. With four colors to choose from—Chalk, Charcoal, Aqua and Sand—it's right for just about any room.
We consciously decided to not include a camera on Google Home Hub, so you feel comfortable placing it in the private spaces of your home, like the bedroom. On the top of the device you'll find the Ambient EQ light sensor. It allows the screen to automatically adjust to match the lighting in the room, so photos on Google Home Hub will blend in with the room, too. That means no glowing screen—it fits seamlessly into your home. When it's time for bed, Hub knows to dim the screen for a good night's sleep.