Sony Electronics Inc. – a worldwide leader in digital imaging and the world's largest image sensor manufacturer – has today announced the Cyber-shot® HX99 (model DSC-HX99) camera, an exciting new travel zoom that packs an extreme zoom range of 24-720mmi into the world's smallestiv camera body of its kind.
The new HX99 model is the ultimate companion to any travel enthusiast or weekend photographer with extensive functionality that includes the ZEISS® Vario-Sonnar T* 24-720mmi High Magnification Zoom lens, 4Kii movie shooting, a powerful BIONZ X image processing engine with a front-end LSI, extremely fast AF, Eye AF, 10 fpsv shooting and more.
ZEISS® Vario-Sonnar T* 24-720mm High Magnification Zoom Lens

In addition to the extensive 24-720mmi zoom range, the versatile new ZEISS® Vario- Sonnar T* lens features Optical SteadyShot™ image stabilization, which effectively minimizes the camera shake and blur that often occurs during handheld and telephoto shooting. The new HX99 is also equipped with a Zoom Assist function that allows the user to zoom more accurately while shooting far away subjects by offering a quick, temporary zoom-out display to showcase a wider area.


Processing Power for Video and Stills

Thanks to its powerful BIONZ X processing engine, the new HX99 camera can capture stunning 4Kii video with full pixel readout and no pixel binning, with minimal "moire" and "jaggies." The new model also is capable of shooting high-frame rate HDvi video at up to 120 fpsvii to produce impressive slow-motion sequences during editing.

During still photography, the camera can acquire focus in as little as 0.09 secondsviii, and it can shoot continuously at up to 10 fps for up to 155 shotsv. The HX99 also is equipped with Eye AF technology, a feature made popular by Sony's acclaimed lineup of αTM interchangeable lens cameras that locks focus onto a subject's eye for compelling portrait and fast-action photography. The camera also is capable of shooting images in RAW format and has a maximum ISO of 6400ix.


Intuitive and Comfortable Operation

The versatile HX99 travel camera includes Touch Focus and Touch Shutter functionality for added convenience, as well as a Touch Pad function for smooth focus point shifting while using the retractable OLED Tru-FinderTM. The camera also has a Control Ring that can be customized with functions such as manual focus or step zooming, as well as a customizable 'My Menu' option for instant recall of up to 30 different settings.

The new camera has a 180-degree tiltable LCD screen that allows for easy framing of self-portraits and group shots, a pop up electronic viewfinder and an upgraded grip that offers a firm hold and greater stability during shooting. It also offers location data acquisitionx via Bluetooth®, which can collect and record location data from a connected mobile device, and proxy recording that allows instant transfers to smartphones or websites for quick sharing.


Pricing and Availability
The new Cyber-shot HX99 Travel Zoom camera will ship in early November for $449.99 USD and $599.99 CAD. It will be sold at a variety of authorized dealers throughout North America.
A variety of exclusive stories and exciting new content shot with the new Cyber-shot cameras and Sony entire line of αTMinterchangeable lens cameras can be found at
www.alphauniverse.com
, a site built to educate and inspire all fans and customers of the Sony Imaging brand.
The new Cyber-shot content will also be posted directly at the
Sony Photo Gallery
and the
Sony Camera Channel on YouTube
. Detailed information pages within Sony.com for the new products can be found at:
HX99 (US) –
LINK
HX99 (CA) –
LINK
SOURCE Sony Electronics
Related Links
http://www.sony.com/news
We have been working around the clock to investigate the security issue we discovered and fixed two weeks ago so we can help people understand what information the attackers may have accessed. Today, we're sharing details about the attack we've found that exploited this vulnerability. We have not ruled out the possibility of smaller-scale attacks, which we're continuing to investigate.
As we've said, the attackers exploited a vulnerability in Facebook's code that existed between July 2017 and September 2018. The vulnerability was the result of a complex interaction of three distinct software bugs and it impacted "View As," a feature that lets people see what their own profile looks like to someone else. It allowed attackers to steal Facebook access tokens, which they could then use to take over people's accounts. Access tokens are the equivalent of digital keys that keep people logged in to Facebook so they don't need to re-enter their password every time they use the app.
Here's how we found the attack that exploited this vulnerability. We saw an unusual spike of activity that began on September 14, 2018, and we started an investigation. On September 25, we determined this was actually an attack and identified the vulnerability. Within two days, we closed the vulnerability, stopped the attack, and secured people's accounts by resetting the access tokens for people who were potentially exposed. As a precaution, we also turned off "View As." We're cooperating with the FBI, which is actively investigating and asked us not to discuss who may be behind this attack.
We now know that fewer people were impacted than we originally thought. Of the 50 million people whose access tokens we believed were affected, about 30 million actuallyhad their tokens stolen. Here's how it happened:
First, the attackers already controlled a set of accounts, which were connected to Facebook friends. They used an automated technique to move from account to account so they could steal the access tokens of those friends, and for friends of those friends, and so on, totaling about 400,000 people. In the process, however, this technique automatically loaded those accounts' Facebook profiles, mirroring what these 400,000 people would have seen when looking at their own profiles. That includes posts on their timelines, their lists of friends, Groups they are members of, and the names of recent Messenger conversations. Message content was not available to the attackers, with one exception. If a person in this group was a Page admin whose Page had received a message from someone on Facebook, the content of that message was available to the attackers.
The attackers used a portion of these 400,000 people's lists of friends to steal access tokens for about 30 million people. For 15 million people, attackers accessed two sets of information – name and contact details (phone number, email, or both, depending on what people had on their profiles). For 14 million people, the attackers accessed the same two sets of information, as well as other details people had on their profiles. This included username, gender, locale/language, relationship status, religion, hometown, self-reported current city, birthdate, device types used to access Facebook, education, work, the last 10 places they checked into or were tagged in, website, people or Pages they follow, and the 15 most recent searches. For 1 million people, the attackers did not access any information.
People can check whether they were affected by visiting our Help Center. In the coming days, we'll send customized messages to the 30 million people affected to explain what information the attackers might have accessed, as well as steps they can take to help protect themselves, including from suspicious emails, text messages, or calls.
Saturday, October 13, 2018
As auto show season shifts into high gear, Chicago Auto Show organizers announce the 2019 public show dates, Feb. 9-18, and reveal the show's new website featuring responsive design, improved online ticketing, social media integration and dedicated exhibitor, media and sponsor microsites.
The nation's largest and best-attended auto show, held annually at McCormick Place, will open to the public on Saturday, Feb. 9 and run through Monday, Feb. 18. The show is open 10 a.m. to 10 p.m. each day, except for the final day of the show, Presidents Day, when it closes at 8 p.m.
Show organizers are ramping up for another robust show, promising visitors access to nearly 1,000 of the newest cars, trucks and SUVs; demonstrations of the industry's latest technology; interactive exhibits; family-friendly activities; special appearances from celebrities and sports icons; and much more. In addition to the latest production, concept and exotic vehicles, the show is packed with opportunities for attendees to get behind the wheel through multiple indoor and outdoor ride-and-drive experiences.
"The Chicago Auto Show not only boasts more than 1 million square feet of exhibit space treating guests to the industry's latest and greatest glistening automobiles, but it also offers attendees indoor test tracks, where they can ride along with products specialists, and outdoor street driving opportunities that demonstrate vehicle capabilities and handling as well as the latest technology and safety features," said Chicago Auto Show Chairman Ray Scarpelli Jr.
"The Chicago Auto Show has offered test track and ride-and-drive experiences to our attendees for quite some time now, as we know a key component to our show's success is to allow consumers to experience these vehicles," said Chicago Auto Show General Manager David Sloan. "We're also incredibly fortunate to have a great venue like McCormick Place, with its expansive design and convenient, single-level layout."
"We constantly strive to provide ROI to our exhibitors, which is reflected in the spring auto sales figures that are posted following our show. It's no coincidence that manufacturers see an increase in vehicle sales following our show, as nearly 70 percent of adult attendees who visit are 12-month vehicle intenders – according to Foresight Research. The Chicago Auto Show is the destination in February where people come to shop for their next vehicle, have a great time with friends and family, and shake off those blues in the dead of winter."

"A successful show begins with an unmatched consumer experience, and that's exactly what Chicagoans have come to expect at the Chicago Auto Show," said Scarpelli Jr.
In fact, showgoers make a day of it and spend, on average, four hours at the Chicago Auto Show, according to Foresight Research. Chicago Auto Show organizers strive to provide the premier consumer experience which, for many attendees, begins with an online interaction.


Website, App Redesigned and Optimized for Mobile Transactions
The restyled 2019 Chicago Auto Show website and mobile app received key enhancements designed to handle the more than 1 million visitors they receive each show season. The changes under the hood are even more significant as the online ticket purchasing process has been completely re-worked to be simpler and more mobile-friendly.
With detailed information, interactive maps and a complete vehicle listing, ChicagoAutoShow.com and the official Chicago Auto Show app (Android or iOS) provide attendees with a one-stop-shop as they prepare to visit the nation's largest auto show. More than one-third of all attendees use the website to purchase tickets or validate coupons prior to attending the show. This year, online ticket buyers can store, share and print tickets across all devices.
The website's comprehensive listing of vehicles on display adds real-time inventory from Chicagoland's new-car dealers, provided by DriveChicago.com. This allows site visitors to sort through more than 60,000 new cars directly on ChicagoAutoShow.com as they are browsing their favorite vehicles.

"We want our attendees to connect to the show on every level," said Scarpelli Jr. "We will be providing free high-speed Wi-Fi at the show to allow showgoers to share their experience through social media, our website and our official Chicago Auto Show app."

Online Media Registration Now Open
Media visiting the website are now able to register for media credentials, download high-resolution Chicago Auto Show images and video, locate recent news releases, view a show floor map and obtain the show's 2019 press kit. The media section of the site is found at
www.chicagoautoshow.com/media/
.
Social Media and Beyond
The Chicago Auto Show will also continue to offer new and exciting opportunities for fans to get into the action through social media. New and returning digital experiences include the official Chicago Auto Show mobile app, a virtual tour guide taking fans behind the scenes; #CAS19 BUZZHUB, a social engagement space featuring real-time news feeds and impressive photo backdrops; and ongoing social media contests leading up to and during the show, accessible by connecting with the Chicago Auto Show on Facebook, Twitter, Instagram and Snapchat.
Special-themed days include Women's Day on Feb. 13, Telemundo Hispanic Heritage Day on Feb. 15, Family Day on Feb. 18 and A Safe Haven Chicago Auto Show Food Drive Feb. 13-15. Tickets will be available for purchase online at
www.ChicagoAutoShow.com
beginning in November or at McCormick Place ticket booths throughout the public show. Ticket prices are $13 for adults, $7 for seniors aged 62 or older, $7 for children ages 7-12 and free admission for children 6 and younger when they accompany a paying adult.
The show's 2019 Media Preview will be held Feb. 7-8 and its black-tie charity gala, First Look for Charity, will be held the evening of Friday, Feb. 8 at McCormick Place.
For more information on the 2019 Chicago Auto Show, please visit
www.ChicagoAutoShow.com
, or watch this
promotional video
. Media can visit
www.ChicagoAutoShow.com/media
for more information or to register for media credentials.
SOURCE The Chicago Auto Show
Related Links
http://www.ChicagoAutoShow.com
Astronauts on the
International Space Station
will conduct spacewalks Friday, Oct. 19, and Thursday, Oct. 25, to continue power system upgrades, and experts will preview the work during a news conference Tuesday, Oct. 16, at NASA's Johnson Space Center in Houston.
Live coverage of the briefing and spacewalks will air on NASA Television and the agency's
website
.
Media wishing to attend the briefing at 2 p.m. EDT must request credentials from the Johnson newsroom no later than 4 p.m. Monday, Oct. 15. Media interested in participating by phone must contact the newsroom by 1:45 p.m. Oct. 16.
Participants in the briefing will be:
Kenneth Todd, International Space Station Operations integration manager
Mary Lawrence, spacewalk flight director
Jaclyn Kagey, lead spacewalk officer
NASA TV coverage of both spacewalks will begin at 6:30 a.m., and the spacewalks will begin around 8 a.m. Each is planned to take about six-and-a-half hours to complete.
The spacewalks will focus on replacing older technology batteries with six new lithium-ion batteries. The new batteries, and accompanying adapter plates, arrived at the station on the Japanese H-II Transport Vehicle-7 (
HTV-7
) cargo craft Sept. 27. Ground controllers will set the stage for the spacewalks by remotely swapping out old nickel-hydrogen batteries on the station's port truss, or "backbone," using the station's robotic arm.
On Oct. 19, space station Commander Alexander Gerst of ESA (European Space Agency) and Flight Engineer
Nick Hague
of NASA will venture outside the Quest airlock for the first excursion to upgrade two power channels. This will be the second spacewalk for Gerst and the first for Hague. Six days later, Gerst and Hague again will team up to complete the power system upgrades.
The spacewalks will be the 213th and 214th in support of station assembly, maintenance and upgrades and the eighth and ninth this year.
SOURCE NASA
Related Links
http://www.nasa.gov
Google debuts Pixel Slate, a Chrome OS tablet with a 3000×2000 display, 8-16GB of RAM, front and rear cameras, no 3.5mm jack; coming later in 2018 from $599
Our devices should be as versatile as we are—keeping up with quick transitions between work and play. That means devices should boot up fast, last all day and get better the more you use them. And it's why a versatile operating system, matched with high-performance hardware, is so important.
Last year, Chrome OS took a big step forward to become even more versatile for all your computing needs, adding the Google Assistant and apps from the Google Play Store. We tied it all together with Pixelbook, our high-performance Chromebook. And today we're sharing a new addition to the hardware family: Google Pixel Slate.
Google Pixel Slate is designed to entertain and help you do more in a fresh, mobile form. We combined a touch-first user interface, optimized Android apps and powerful desktop-style features in Chrome OS to deliver a no-compromise device.
More info
Google Home Hub is the newest member of the Google Home family, bringing you help at a glance. With the Google Assistant built-in, you can use your voice to get the best of Google—Search, YouTube, Google Photos, Calendar, Maps and more—right on Google Home Hub's display.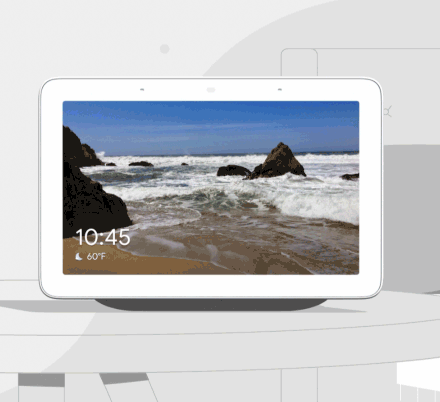 The first thing you'll notice about Google Home Hub is its beautiful design. We made this display to fit right into your home, and we hope you'll consider it not just functional, but part of your decor. The 7" screen is like a floating display, the right size to fit on any surface and big enough to enjoy your photos from across the room. With its soft rounded corners, Google Home Hub fits naturally on any surface. My favorite places are my kitchen counter and nightstand. With four colors to choose from—Chalk, Charcoal, Aqua and Sand—it's right for just about any room.
We consciously decided to not include a camera on Google Home Hub, so you feel comfortable placing it in the private spaces of your home, like the bedroom. On the top of the device you'll find the Ambient EQ light sensor. It allows the screen to automatically adjust to match the lighting in the room, so photos on Google Home Hub will blend in with the room, too. That means no glowing screen—it fits seamlessly into your home. When it's time for bed, Hub knows to dim the screen for a good night's sleep.
igloohome
today introduced its Smart Padlock, a versatile, remotely-managed security solution that provides owners with convenient access control to their properties and assets. Featuring an innovative PIN code technology that allows owners to grant remote access without users needing to download an app, the igloohome Smart Padlock is the perfect security tool for granting time-sensitive access. The
Indiegogo campaign
, which has a funding goal of $50,000 USD, features limited Early Bird Specials of $69 (37% off the retail price), and several other rewards for backers to choose from.
With the igloohome Smart Padlock, property owners can grant access to their homes, yards, facilities, etc. to guests, handymen, or others via two unique options: PIN codes or Bluetooth keys. With PIN codes, there is no need to download an app to receive time-sensitive access codes. Instead, they can be sent over any communication mode such as text, email or Facebook Messenger. Once received, the user simply keys the PIN code on the padlock - no downloads or registration required. PIN codes can work immediately (select when to start and also to expire), even though the Padlock is not connected to the internet and without the need for the owner to be within proximity of the Padlock.
As an alternative to PIN codes, Bluetooth keys (via smartphone) are also an option to unlock the igloohome Smart Padlock, when users are within proximity of it. After receiving a Bluetooth key from the owner, users can tap 'unlock' on the app before unshackling it.
Perfect for the sharing economy, the igloohome Smart Padlock grants time-sensitive access that supports a high turnover of users, and is perfect for a wide variety of scenarios - from the typical Airbnb(r) rental to the delivery man dropping off packages in a storage box, or bicycle sharing.
When the PIN code expires, the owner's property and assets are kept secure. Key functionality includes the ability for owners to set Recurring, Duration, One-Time or Permanent PIN Codes. This PIN code technology has been used in internet banking tokens and RSA tokens, but igloohome is one of the first to utilize it for the hospitality industry.
The igloohome Smart Padlock strikes a perfect balance of security and convenience. It is built with other features such as: Access logs, Relock reminder, Security alarm, Emergency jumpstart and LED Status Indicator. And, because it's versatile and user-friendly, the igloohome Smart Padlock is perfect for both consumers and businesses alike. For the latter, a dashboard option (separate fees apply) is available for easy management of a large numbers of locks, offering businesses the ability to eliminate the issue of pilferage/loss of goods during transport, and the securing of utilities so that staff no longer need to physically pass keys between one another.
igloohome has rolled out their award-winning products in over 90 countries, with 30+ integration partners. They've established partnerships with big players such as Airbnb, HomeAway and leading property developers such as Sansiri, CapitaLand and Mitsubishi. igloohome aims to create a comprehensive portfolio with the Smart Padlock and more.
"We believe that the igloohome Smart Padlock will be a complete game-changer," said Anthony Chow, CEO and co-founder of igloohome. "We have created a new security product that can be used in an even wider range of scenarios due to our cutting-edge PIN code technology. We are taking the next step in re-inventing access control."
SOURCE igloohome
Related Links
http://www.igloohome.co
Pixel brings you the best of Google in a phone, powered by AI to deliver more helpful, thoughtful and enjoyable experiences. That means a phone that answers for you when a telemarketer calls, a camera that uses AI to make sure you never miss the shot, and a more helpful visual and audio experience while charging, powered by the Google Assistant.
Here's how the best camera gets even better with Pixel 3:

Capture smiles, not blinks:

A feature we call Top Shot uses AI to help you capture the perfect photo every time. When you take a motion photo, it captures alternate shots in HDR+, then recommends the best one—even if it's not exactly when you hit the shutter—looking for those where everyone is smiling, with eyes open, and facing the camera.

Get better zoom:

When you zoom in on a phone camera, the image looks grainy. Super Res Zoom is a computational photography technique, traditionally used for astronomy and scientific imaging, that produces sharp details when you zoom.

No light; no problem:

Pixel 3 lets you take natural-looking photos in dark surroundings, all without a flash. With Night Sight, coming soon to Pixel 3, you can take bright, detailed, colorful shots around the campfire, in a moonlit forest, or after you close out the bar.

No selfie stick required:

Get everyone in the picture with Group Selfie, which gives you 184 percent more room in your photo for friends and scenery.

Look … no hands!

Photobooth mode uses AI to recognize that when you're smiling or making a funny expression, you're ready for a selfie. It snaps the photo on its own so you don't need to reach for the shutter button—a good option for candids.

Even more stunning portraits, front and back:

When you take photos in Portrait Mode, you can change the blurriness of the background, or change the part of the picture in focus, after the fact. Google Photos can also make the subject of your photo pop by leaving them in color, while changing the background to black and white.

Create and play:

In Playground, you can make photos, selfies and videos come to life by adding your favorite superheroes, animated stickers and fun captions. In celebration of Marvel Studios' 10 Year Anniversary, you'll enjoy seeing the characters from the Marvel Cinematic Universe (exclusively on Pixel) react to each other and to you. New packs for Weather, Pets, Sports and Signs let you have everyday fun, and coming later this year, you'll be able to sharpen your dance skills with moves from Childish Gambino.

Super smooth video:

When you want to capture something that won't stop moving—think an adorable toddler or your new puppy—Motion Auto Focus will make sure your Pixel 3 camera stays in sharp focus automatically, as you record. And if you happen to be taking a selfie video while walking or moving around, Pixel 3 brings you front-facing video stabilization.
More info