IK Multimedia's SampleTank 4 is now available
IK Multimedia announces the availability of SampleTank 4®, the next generation of IK's legendary sound and groove workstation that offers professional-quality sounds, an intuitive interface and powerful editing and effects for musicians and producers. It was re-designed from the ground up to be every musician's "go to" music creation workstation.
SampleTank 4 offers a massively expanded sample library (up to 8,000 sounds across 260 GB of samples) and a completely redesigned, scalable/zoomable interface. A new cutting-edge sound engine offers efficient hard-disk streaming and advanced sound design/editing possibilities.
The library and sound engine are complemented by innovative dynamic groove "players" (arpeggiator, strummer, pattern and loop player), 13 new effects (for a total of 70), a powerful new Mix window, a unique Live mode and powerful integration with IK's iRig Keys I/O line.
Three versions are now available: SampleTank 4 SE; SampleTank 4; and SampleTank 4 MAX.
Details on each version are below.


It all starts with sound - the expanded library
SampleTank 4 offers a massive library of sounds and grooves, with up to 260 GB and 8,000 instrument presets carefully balanced across a wide range of styles, genres and sounds. It contains over 200GB of new material assembled from dozens of high-quality recording sessions in cities across the U.S. and Europe, including IK's new custom-built studio in Italy. The new library features high-end recordings of all-new concert pianos, keyboards, guitars, bass, drums, strings, brass, synths, vocals, percussion and more, all with articulations and round robins for the most realistic performance yet, with over 120,000 samples added.
A new stereo grand piano offers multiple microphone sets and carefully blended room mics, to rival the best dedicated piano virtual instruments. A new collection of the most famous electric pianos, organs and keyboards covers everything from classic R&B to modern indie pop. And a massive set of new synthesizer sounds, using modern hardware instruments, offers a fresh companion to more vintage sounds.
New modern string and brass sections, with multiple musical articulations and deep round robin sampling, were designed to contrast with orchestral sounds rivalling dedicated symphonic libraries.
New acoustic and electronic drum kits and loops cover the latest beats straight from the top charts around the world. A timeless library of mallet and chromatic instruments gives tracks vivid melodic percussion with smooth clarity and harmonic brilliance.
New basses and guitars offer stunning detail, designed specifically for use with IK's industry-leading amp modelling effects.
A unique pop choir sound set offers an alternative to typical orchestral choirs, delivering new feel and soul to any recording.
Additionally, thanks to SampleTank 4's new efficient disk-streaming engine, larger sounds are not limited anymore to RAM size and load faster than ever to perform like never before.



Dig deeper - a completely re-designed application

SampleTank 4 offers a completely redesigned, fully scalable/zoomable interface that re-sizes conveniently on any type of modern displays.
All the interfaces have been redesigned from the ground-up to maintain the ease of use that's been a staple for SampleTank, for a minimal learning curve and fast workflow that suits the needs of today's modern producers.

The re-designed Sound Browser lets users browse, filter and search by style, genre and mood to find inspiring sounds quickly. Working with multiple sounds has also been made easier with a new dedicated Layer interface that enables the setting up of layers and split-points for up to 16 simultaneous sounds.

Editing is more powerful, too. Choose from 16 modelled filters, edit envelopes, oscillators, portamento, polyphony and more. Users can edit an entire sound or access individual articulations, zones, or single samples, for the deepest level of control. A new, cutting-edge modulation matrix allows for linking sources like envelopes, LFOs and oscillators to almost any control, for designing intricate soundscapes.


Animate sounds - innovative new dynamic "groove players"

Presets can be turned into performances more quickly with four new dynamic "groove players" - an Arpeggiator, Strummer, Phraser and Loop Manager. The Arpeggiator offers a massive range of presets with an option to draw in patterns, set velocity, length, swing and more. The Strummer lets users choose chords, position, direction and more, and then intelligently creates an accompaniment. The Phraser pattern player enables quick browsing and mapping of over 4,000 MIDI patterns. The Loop Manager offers over 7,500 loops that can be mapped to keys and triggered, with controls for pitch, grain and time.


Mix faster than ever

A powerful new Mix window has been added to adjust volume, panning, mute, solo and routing for all 16 tracks simultaneously. It also offers four effects sends and a master bus, with slots for five effects for advanced routing and mixing. New console channel strips give mixes the sound of legendary studio consoles for truly professional results, all within a single plug-in.
Convenient access to all effects parameters in-interface allows an entire track to be mixed efficiently in a single window.


The best effects get even better

SampleTank 4 adds 13 new effects, for a grand total of 70 studio-quality effects. Effects like these have never before been heard in a virtual instrument - they're all derived from IK's industry-leading AmpliTube and T-RackS software. Users can shape their sound with realistic tube saturation, classic analogue pedal effects, professional studio processors, creative effects, and more.


More hands-on control with iRig Keys I/O

SampleTank 4 now includes seamless integration with IK's iRig Keys I/O controllers. Users can browse and load sounds, control macros and transport, trigger loops, launch live setups and more directly from iRig Keys I/O, for an entire production set up that's plug-n-play. Fully MIDI controllable, SampleTank 4 also works with any other standard MIDI controller, be it keyboard or pad.


From the studio to the stage
SampleTank 4 makes it easier than ever to hit the stage. A unique, re-designed Live mode offers fingertip-ready controls for live performance and lets users build an entire set list and create song presets. Program change messages can also be assigned to each preset, for switching directly from a controller while performing.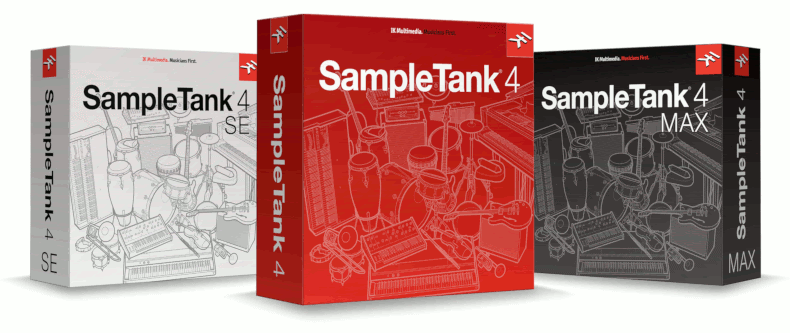 Price and availability
SampleTank 4 is now available from the IK Multimedia online store or from select IK dealers.
SampleTank 4 SE - an affordably priced entry into the SampleTank line, offering 2,000 carefully chosen instruments for 30 GB of sounds. MSRP: $/€149.99* via direct download.
SampleTank 4 - Over 100 GB of sounds, including 70 GB of newly recorded material, for 6,000 sounds overall. MSRP: $/€$299.99* via direct download or $/€$329.99* for a boxed USB copy. Upgrade for only $/€199.99* direct or $/€$229.99* boxed.
SampleTank 4 MAX - the largest sample library IK has ever produced, it offers over 260 GB, including 200 GB of all new sounds. That's over 8,000 sounds in total. MSRP: $/€499.99* via digital download or $/€$529.99* for a boxed USB copy. Upgrade for only $/€299.99* direct or $/€$329.99* boxed.
For more information, please visit:
www.sampletank.com/4
To watch SampleTank 4 videos, listen to instrument demos by Jordan Rudess or hear full songs using SampleTank 4, visit:
www.ikmultimedia.com/st4/media